OverDrive is a free service offered by your library that lets you borrow eBooks, audiobooks, and more from their digital collections.
All you need to get started with free digital titles from OverDrive is an internet connection and a library card.
Follow the link to Overdrive Ebooks at take a look at the selection available.
If you belong to a public library and you're just getting started with OverDrive, we recommend trying our new app, Libby. Libby is the easiest way to borrow and enjoy digital content from your library. Learn more about Libby here.
The new Libby app is the easiest way to get started with digital books and audiobooks from your public library. Libby is available for Android, iOS (iPhone/iPad/iPod touch), and Windows 10.
Note: Do you belong to a school or non-public library, or do you require a feature (like screen reader support) that's not available in Libby yet? Use the OverDrive app to borrow and enjoy digital titles instead.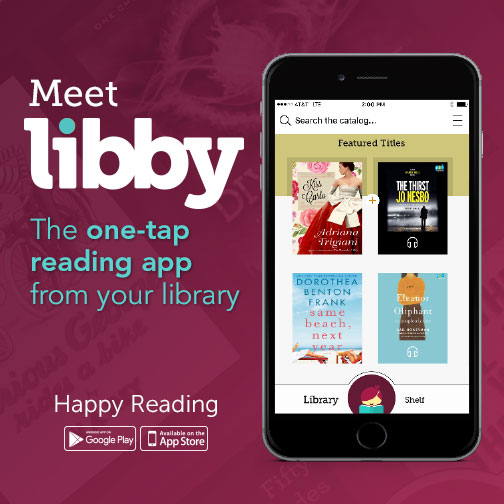 Step 1
Install the Libby app from your device's app store.
Apple App Store
Google Play
Windows Store
Step 2
Open Libby and find your library. You can search by library name, city, or zip code.
Step 3
Browse your library's collection and borrow a title. When prompted, sign in with a valid library card.
Step 4
Borrowed titles appear on your Shelf and download to the app automatically when you're connected to Wi-Fi, so you can read them when you're offline.
From your Shelf, you can:
Tap Open book or Open audiobook to start reading or listening to a title.
Tap the cover image, then Send to Device to send a book to Kindle.
Happy reading!